Creating shareable content is a great way to get in front of your audience. Users share other posts for a variety of reasons; because it's relatable, informative or funny. Every day, millions of people post and re-post content.
With every share your content receives, your audience grows. When a Facebook user shares your post, that user's friends will see your content on their news feeds. By being shared, you're enjoying implicit endorsement and a wider audience.
Images are the most posted content on Facebook, making up three-quarters of total content posted by Facebook pages. Graphics are also the most engaging content type on Facebook, with an interaction rate of 87%. A picture says a thousand words; let your photos do the talking!
You might be saying to yourself, "I don't have the first clue on how to make graphics!" Don't worry about that — there's a plethora of tools, apps and more available for free to make and share your graphics. We've compiled a list of eight to get you started.
Creating Visuals
With a wide variety of channels to post to and types of content to create, it can be difficult to know where to begin. If you're just starting out with creating original content, these tools are a good start.
Canva
Canva bills itself as "amazingly simple graphic design software." Canva provides you with templates for popular sizes and uses (square for Instagram, Facebook profile cover-sized, presentations and more) or a create-your-own option. Building your graphics is easy with supplied themes and a variety of elements, like backgrounds and icons. You can also add and edit their own photos and text in.
Cost: free to use, in-app purchases available, Canva for Work account subscription available
Available on: browser, Apple devices (iPad)
Design Wizard
Design Wizard is an alternative to Canva with a lower cost licensing model and has all their tools and features available in their free subscription.
They have over 17,000 templates (10,000 free) and over 1.2 million images in their database.
easel.ly
Easel.ly is another in-browser tool for graphics, specializing in infographics. Organizing information you want to share as an infographic makes it more visually appealing to both read and share. Pick from a number of themes to get started, or create your own. In addition to user uploads, charts, icons and shapes can be added in the editor.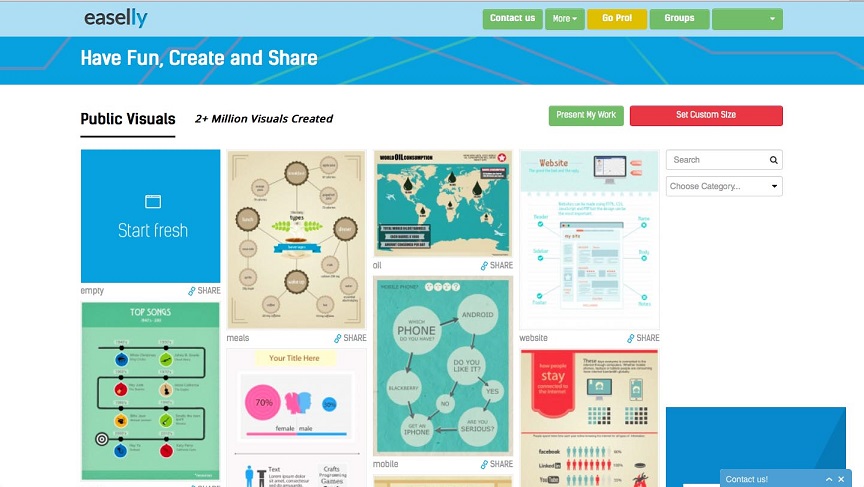 Cost: free to use, Pro account subscription available
Available on: browser
Other tools you may like: BeFunky, iPiccy
Editing Visuals
If you already have some images available or a certain look in mind that you want to achieve, give editing a try. Editing can create a uniform look, strengthening your brand through consistency.
Pixlr
With two web-based applications, Pixlr Editor and Pixlr Express, you'll be able edit photos, add elements, and more. Pixlr Editor focuses on the editing portion in Photoshop-like environment, with features like layers and object transformation. The Express portion concentrates on image filters, borders and quick sharing.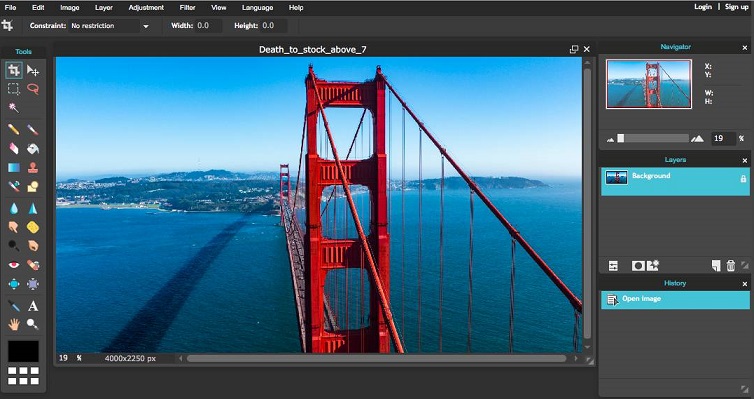 Cost: free to use
Available on: browser, Apple devices, Android devices, desktop (subscription fee required)
VSCO
Produced by Visual Supply Co., VSCO is their mobile photo editing app. The company also produces filters for use in Adobe products. It's easy to use on-the-go, with options to apply filters, crop and edit your images. Additional filters are available for purchase, allowing you to find the perfect effect for your photos.
Cost: free to use, in-app purchases available
Available on: Apple devices, Android devices
Other tools you may like: Adobe Photoshop Express (Apple devices), PicMonkey
Stock Photos
You might have a lot of ideas, but few resources. There is a wealth of free and premium images online available to edit and use, and looking may even spark more inspiration.
Unsplash
Unsplash posts free, Creative Commons Zero (i.e. do what you want with them) high-resolution photos. Available both online and as a subscription (emailed to you periodically), Unsplash provides a wide variety of photos of places and objects. All content is donated and curated by the Unsplash team.
Cost: free to use
Public Domain Archive
The Public Domain Archive is an online resource for high-quality free images. All photos are Creative Commons 1.0 Universal, meaning no permission is required to use, distribute and the like. Images are available in many categories and themes, including landscapes, backgrounds and art.
Cost: free to use, Premium account subscription available
Other tools you may like: Death to the Stock Photo, FreeImages.com
Sharing Content
Now that you've got all this content, you have to share it! Whether you have one, ten, or even more profiles to manage, there's a tool that will be able to help.
Buffer
If you use more than one social media profile to share content, think about using multi-account management tool. Schedule posts into a queue and let it do the posting. Buffer supports Facebook, Twitter, LinkedIn, Google+, and Pinterest. It also has a companion app, Pablo, that supports image editing.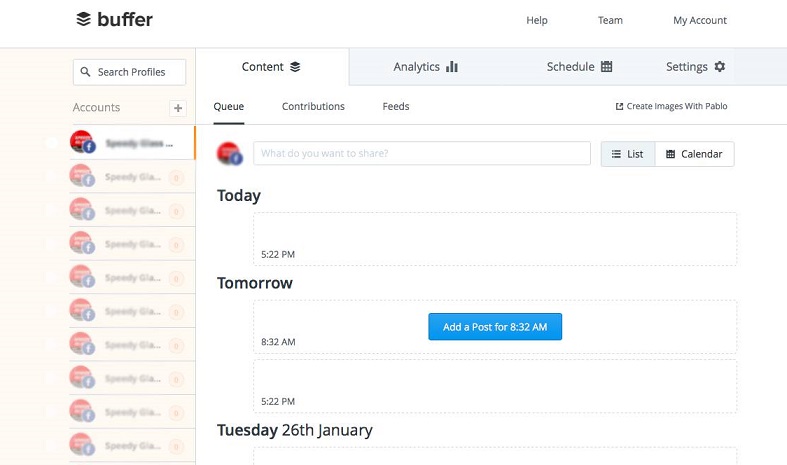 Cost: free to use, multiple subscription levels available
Available on: browser, Apple devices, Android devices, browser extension
Latergramme
The Facebook-owned app, Instagram, is extremely popular, with 400+ million users. Latergramme allows you to schedule Instagram posts from your phone or your online account. View your feed, or search by users or hashtags to find other content to repost and share. It can't do the posting for you, but it will remind you when it's time, based on the schedule you set.
Cost: free to use, Premium account subscription available
Available on: browser, Apple devices, Android devices
Other tools you may like: Schedugr.am, Sprout Social, Hootsuite
With so many resources to create, edit and share visuals, there's a solution out there that fits your needs. As social media continues to develop and grow, content will grow with it. Being able to create visual shareable content will pay a big role in elevating your business, no matter what your objectives are. If you're already a pro at images, try your hand at video – Vine, Boomerang, Replay and other apps are already out there and waiting for you!